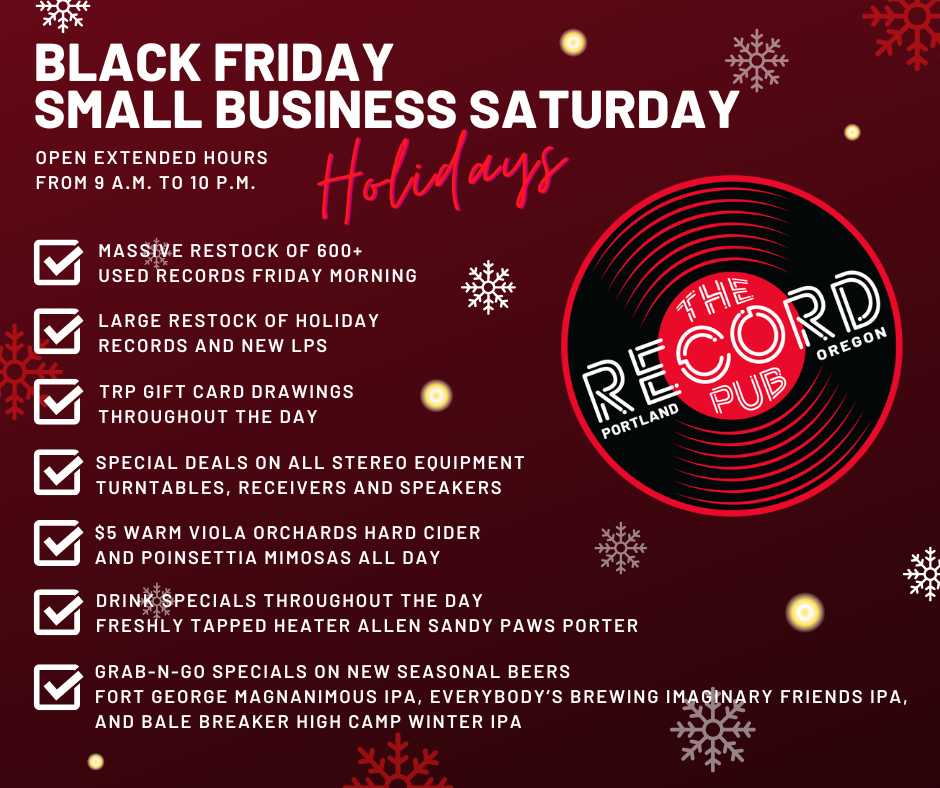 At The Record Pub, we have a host of special activities and deals in store for Black Friday (Nov. 25) and Small Business Saturday (Nov. 26). We will be open extended hours from 9 a.m. to 10 p.m. both days, so be sure to join us for a fun day, great selection and special deals! 
For starters, we will be doing a massive restock of more than 600+ used records the morning of Black Friday. Similarly, the entire feature wall will be refreshed with upwards of 50 collectible records. 
Other special activities on tap:
Black Friday/Small Business Saturday deals on all stereo equipment, including turntables, receivers and speakers
Get in the holiday spirit with $5 warm Viola Orchards cider, mimosas and poinsettia cocktails all day
Drink specials throughout the day, including a freshly tapped Heater Allen Sandy Paws Porter!
A great selection of new and used holiday records
Grab-n-go specials on a variety of canned seasonal beers, including Fort George Magnanimous IPA, Everybody's Brewing Imaginary Friends IPA and Bale Breaker High Camp Winter IPA.
Gift card drawings throughout the day! 
As a new small business, we very much appreciate the enthusiasm for The Record Pub since our opening in July and look forward to hosting you over the holidays.