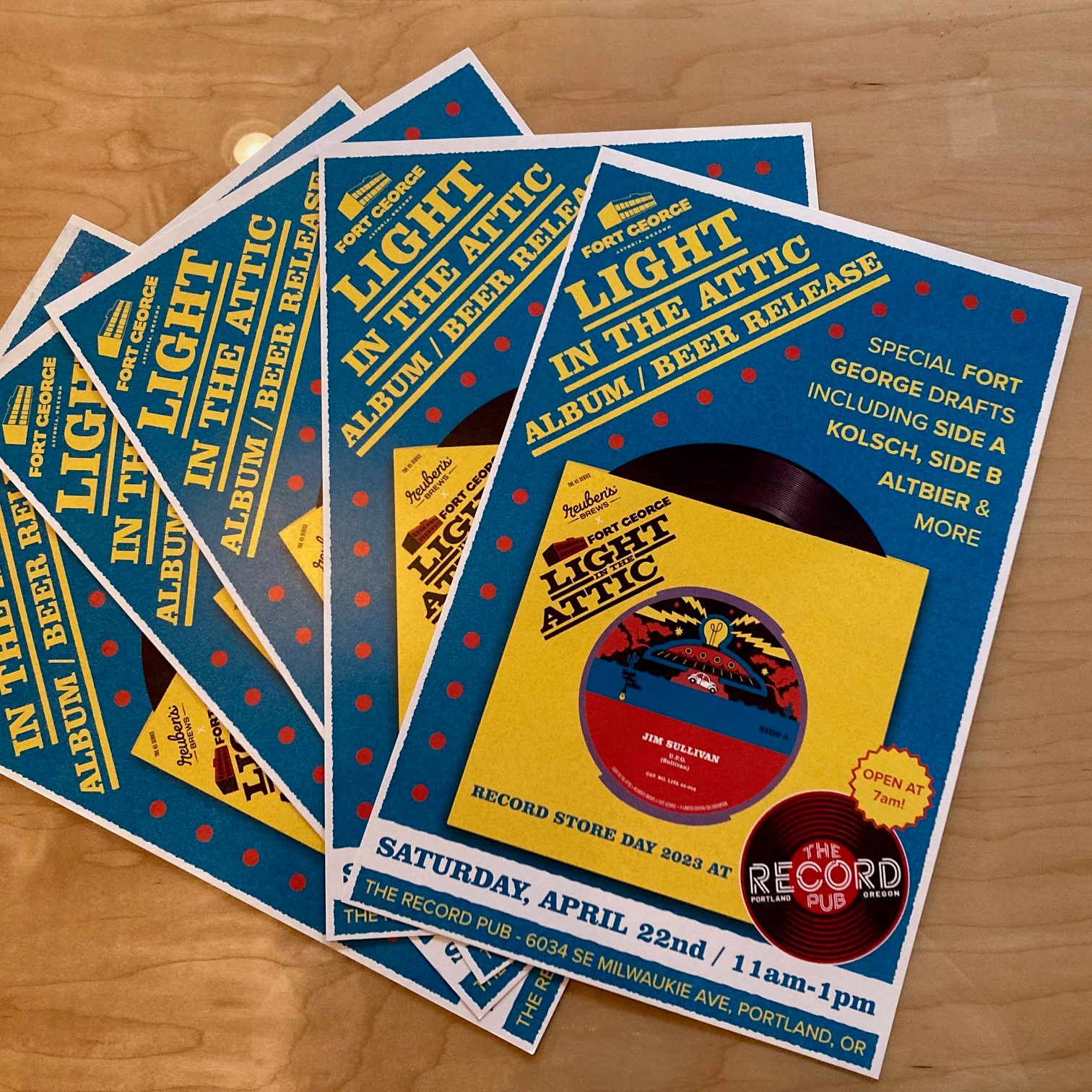 Our friends at Fort George Brewery are joining in the fun during Record Store Day 2023 at The Record Pub, teaming up with Reuben's Brews and Light in the Attic Records to present this year's 45 Series – a combination of classic tunes and beer that will debut at The Record Pub during Record Store Day on Saturday, April 22.
The 45 Series is a collaboration that's all about the single. It features two sides of a 45rpm, seven-inch record with Light in the Attic Records, and two sides of a beer collaboration with Fort George and Reuben's Brews.
The record features the classic Jim Sullivan tracks "UFO" and "Jerome." To match these deep cuts from 1969, Fort George and Reuben's decided to brew some classic styles. The A Side beer is a Kolsch with a light touch of Phantasm powder, while the B Side is an Altbier. Both beers are brewed in 45 barrel tanks. The Record Pub will be offering mini-flights of the two beers for $4.50 that day.
Cascade Record Pressing, the Northwest's first large production automated record-pressing plant, has pressed a limited run of the 45rpm Jim Sullivan records to accompany this year's beer release from Fort George.
TRP will be open at 7 a.m. on Saturday, April 22, with a host of special activities planned as part of Record Store Day 2023 at The Record Pub. Fort George representatives will be on site from 11 a.m. to 1 p.m. that day to celebrate this year's launch of the 45 Series with giveaways, drawings and more. Additionally, The Record Pub and Fort George are teaming up on an expanded tap takeover, featuring a variety of Fort George brews on draft (in addition to the 45 Series beers) to add to the Record Store Day revelry.
Additional highlights of this Record Store Day at The Record Pub this year include:
• The Record Pub will be open 7 a.m. to 10 p.m. for Record Store Day on Saturday, April 22
• More than 100 RSD titles in stock as doors open at 7 a.m. (RSD purchases will be limited to one title per person)
• Free coffee and breakfast snacks for people in line, compliments of our neighborhood friends at Nana's
• TRP/RSD swag bags to the first 50 people through the doors
• $5 mimosas served all day
• In addition to Record Store Day titles, hundreds of freshly stocked used records will be added to the bins that day
• A completely refreshed feature wall, stocked with dozens of collectible used titles